The 26th International Exhibition of Agro-Food Industry, Machinery, and Related Industries "Iran Agrofood 2019", the largest agricultural and food exhibition of West Asia, has been held at the permanent exhibition of Tehran's international exhibitions from 18 to 21 June.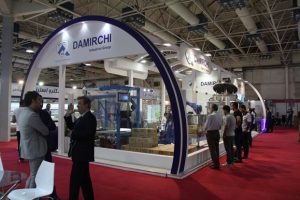 Representatives of Iran's food industry attended the 26th Iran AgroFood Exhibition to showcase their achievements and capabilities to international actors in the field. A total of more than 920 companies were present at the fair, of which more than 760 companies provided the latest products, products and services to their enthusiasts.
In addition to Iranian companies, 160 foreign companies from Spain, Austria, United Arab Emirates, Italy, Germany, Brazil, Turkey, China, Denmark, Russia, Switzerland, Georgia, the Netherlands, India, Greece, Indonesia, Slovakia, Tunisia, Mongolia and Poland were also present. The exhibition is divided into three sections: Iran Food (Food Products, Conversion Industries and Related Industries), Iran Single Food (Machinery, Equipment, Technology and Food Industries, Packaging, Related Equipment) and Iran Agrofood Includes machinery and equipment for agriculture and irrigation, agriculture and related industries.
The Damirchi Manufacturing and Industry Group, one of the top Iranian companies in the machinery industry, presented its customers with the latest products in the field. Thanks to Allah Almighty, this collection is at the exhibition every year. During the days of the exhibition, Damirchi Pavilion proudly hosted special guests and had effective meetings with its business partners throughout the exhibition.